Farquhar Atoll Fishing News | 27 Nov – 4 Dec 2019
An interesting week of fishing on Farquhar has come to an end. Weather was definitely a challenge this week with a huge weather system inbound to the Seychelles and conditions changing by the minute mean that the weather was not on our side. With high wind speeds and lots of clouds, seeing fish and casting to them was not easy, but we made the best of good conditions when we had them.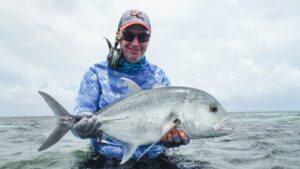 Tides started off in new moon springs and transitioned into neap tides at week's end. Despite the difficult conditions, our guests and guides made it happen, landing 30 GT's for the week.
Guests Charlie Limond and Graham Huttun lead the way with 11 and 12 fish. Charlie landed two fish over a metre with a 104 cm and 106 cm. Ken Matsumoto, Toshi Sekiguchi, Gerhard Linska, Angelika Linska, Larry Tailor, Heinz Joella, Patrick Gras all landed GT's. In total 38 bonefish were caught with Graham's personal best measuring 67 cm topping the list. Larry also caught a personal best bonefish which measured 63 cm.
Elaine Tailor landed her first triggerfish and Patrick landed a trophy 55 cm triggerfish. Two bumpy's were caught this week with one being caught by Elaine, which was her first bumpy and one by Gerhard, also his first. Both bumpy's were 90 cm plus.
With our weather being so unpredictable there was no bluewater fishing this week, but some good species angling was had by all anglers. A very impressive 80 cm bohar snapper was caught by Charlie.
Thanks to all our guides and guest for an excellent week! With many personal bests, firsts, losses and triumphs had during this week it was truly a pleasure and memorable for all involved!
Tight Lines,
The Alphonse Fishing  Co. Team on Farquhar Atoll
TOTAL CATCH STATS FROM 10 ANGLERS THIS WEEK:
Giant Trevally: 30
Triggerfish: 2
Bumpy: 2