Alphonse Island Fishing News | 30 Nov – 7 Dec 2019

A cyclone, extremely strong winds and heavy rains didn't stop anglers from landing fish on St. François Atoll and Alphonse Island last week. Anglers from around the world descended onto Alphonse in search of the catch of a lifetime.
Angling was limited over the week due to the bad weather which put both the guides and anglers skills to the test. Despite the challenging conditions anglers managed to land a total of 302 bonefish which is extremely impressive under such tough conditions.
Day one was a great day for Ferdinando Santanniello. Ferdinando managed to land three permit in one day which is truly the catch of a lifetime.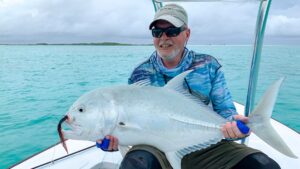 Day three turned out fantastic, many anglers caught bones. Douglas McLean managed to land an impressive 80 cm GT and John Roggensack managed to land a 70 cm GT. Day five worked out nicely for Paul Hilton, Paul managed to land a beautiful 60 cm GT.
Another fantastic week was spent at Alphonse Island fishing St. François Atoll. Memories were made and bonds were formed that will last a lifetime. Stay tuned for next week's report as we are sure you won't want to miss it.
Tight Lines,
The Alphonse Fishing  Co. Team on Alphonse Island
TOTAL CATCH STATS FROM 10 ANGLERS THIS WEEK:
Bonefish: 302
Permit: 5
Giant trevally: 3