Cosmoledo Atoll Fishing News | 21 – 28 November 2019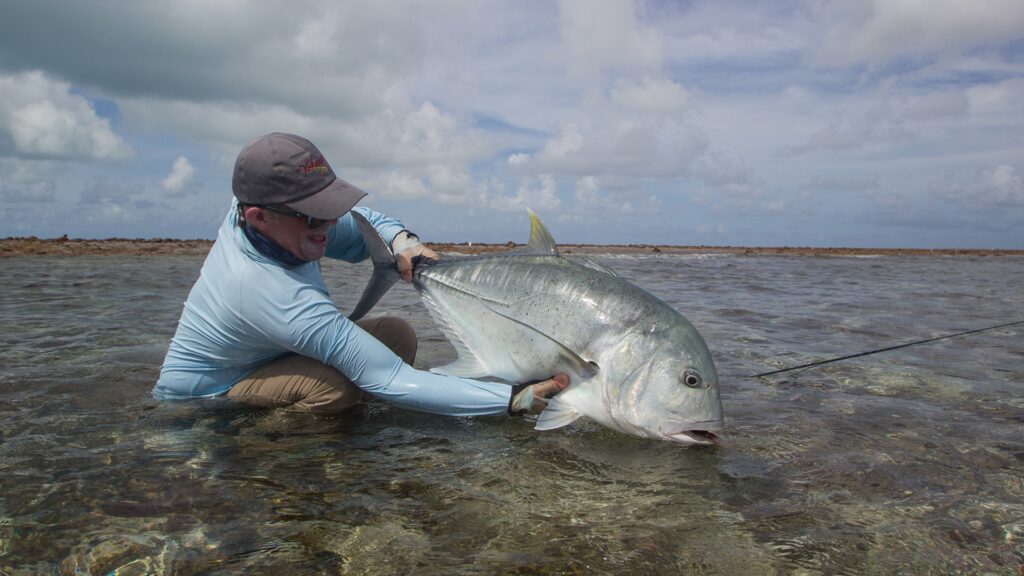 Week three welcomed the return of the three Irish brothers back to the Seychelles, Mark, Greg and Niall Turley, seasoned angler Bill Roberts, David Powter, Greg Barnes, Dan Christensen, Nick Baird, Allen Morrison and Peter Rippen.
The weather played its part for most of the week with a few passing squalls from time to time, however, that didn't damper spirits as fish were caught throughout the week.
A grand total of 92 GT's were landed this week on Cosmoledo, two of them well exceeding the one metre mark, along with a moustache triggerfish and some bonefish were thrown into the mix.
Sadly there were some large fish lost during the beginning of the week, however, the last few days produced two fish over 100 cm. Dan Christensen landed his biggest GT, a very impressive 114 cm GT smashing the popper. Peter Rippen, however, topped that with his personal biggest, a monster 118 cm GT in the surf, truly a fish of a lifetime.
Allen Morrison had a stellar week by landing several decent GT's as well as the only moustache triggerfish of the week, on the last day.
In all, it was a great week with some exceptional Irish and Scottish Whiskey enjoyed by all in the evenings over the recent war stories of fish landed and fish lost, with the later always seeming to be bigger than the fish caught…
Tight Lines,
The Alphonse Fishing  Co. Team on Cosmoledo Atoll
TOTAL CATCH STATS FROM 10 ANGLERS THIS WEEK:
Giant Trevally: 92
Triggerfish: 1
Bonefish: 6