Astove Atoll Fishing News | 9th – 16th March 2020
The anglers for week 18 were well accustomed to the fishing on Astove. Combined with prior experience, knowledge and an exciting tide; Robert Gilchrest, Chris Ward, Mark Holme and Christopher Agar were set for a great week.
There were some challenging weather conditions, but the group still managed to get out there and find some fish. Rob opening his account on a feisty 75 cm GT and Chris with a 70 cm GT. The rest of the group saw some good fish, but the weather got the better of them.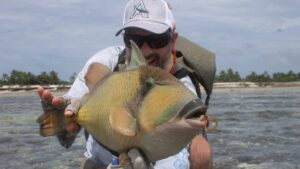 Day two and three were very productive days all round, Chris and Rob both getting flats slams with some lovely triggerfish, decent GT's and some chunky bones in the surf. Chris ward managed two moustache triggerfish in one afternoon session.
Chris Agar had a red-letter day on the fourth afternoon with loads of exciting opportunities,
GT's on rays in skinny water, big tailing bones in the surf and numerous tailing triggerfish.
Chris managed four GT's consisting of one small GT and three fantastic fish of 69 cm, 74 cm and 80 cm. The only fish that got the better of him was the tricky triggerfish who managed to bite him off twice and miss the hook several times.
Day five and six were very challenging again with the weather but the guys still managed to see some good fish and get some great shots. Mark spent his last day on the cliffs and saw fish from the word go. Multiple shots were had but after breaking a line and breaking a rod all that could be said was "I'll be back to settle my score."
Tight Lines,
The Alphonse Fishing Co. Team on Astove Atoll
TOTAL CATCH STATS FROM 4 ANGLERS THIS WEEK:
Giant trevally: 17
Bonefish: 30
Triggerfish: 7