Amirante Charters Fishing News | 02 – 17 November 2019
Week one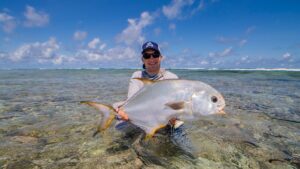 Our first A'mani outer island adventure was with our father and son team, Jeff and Ryan Monsein. Jeff and Ryan were our first group of guests to return to our Amirante Islands so there was a feeling we were in for a treat. We set out to St. Joes tackling up and making flies as we went.
The first morning we encountered multiple groups of permit allowing the guys to slowly get the cobwebs out of their casts.  Ryan started our week off with his first Indo-Pacific permit of 55 cm, a perfect specimen. There was huge rivalry between father and son so now the competition was on.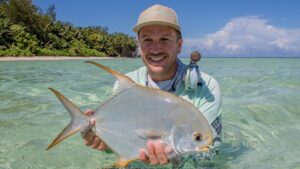 When the water ran away and permit were nowhere to be found a few of the very healthy St.Joes bonefish came out to play.  We had one last day on St. Joes where, while Jeff was watching in the background, Ryan made a spectacular shot which got him the permit of the week which measured 69 cm.
With Ryan firmly in the lead, we headed to Poivre Island. We arrived at the flats in anticipation of seeing many tailing permit and as the tide receded, the tails started to emerge.  Over the next two days, Ryan caught another two beautiful golden nuggets, one of 68 cm and another one in the mangroves of 60 cm.
It was a great introduction to flats fishing before they headed to Cosmoledo.
Week two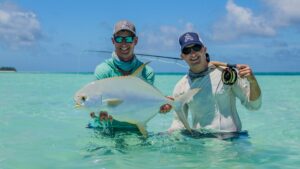 Our next group of guests included Vladimir, Vadim, Gregory and Sergey. We started our trip with a double strike on black marlin. Vadim fought one of the marlin for around 45 min but unfortunately, the hook pulled at the boat. We arrived at St. Joes, tackled up and were ready to go.  Unfortunately, the overcast conditions made it difficult to locate the permit.
Gregory started the team off with a 50 cm permit, which he was ecstatic about. It gave him hope for the days to come. The afternoon pushing tide pushed in a large bait ball and an estimated group of 20 GT's was terrorizing them. Vladimir with much persuasion made a cast and was rewarded with a one metre fish. Unfortunately, it was the smallest fish of the group that ate his fly.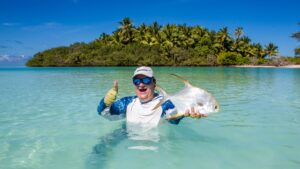 St. Joes holds many schools of permit which sometimes congregate around coral heads and when you can find the school, it is an awesome experience. Vadim and Sergey managed five permit off this school getting some lovely double-ups. So six permit up and we were headed to Poivre.
The tailing permit were driving the guys crazy having up to 30 shots in a day. Sadly, we had bad luck with some really good fish that were coming unbuttoned and hooks opening. Until next time!
Tight Lines,
The Alphonse Fishing Co. Team on MV A'mani
TOTAL CATCH STATS FROM 6 ANGLERS THIS WEEK:
Permit: 10
Giant Trevally: 1
Bonefish: 21
Wahoo: 5