Alphonse Island Fishing News | 18 – 25 January 2020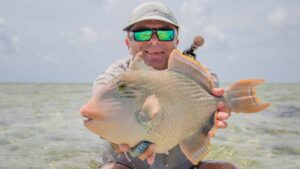 Ten very eager anglers descended onto the shores of Alphonse Island this week. The weather was good however a strong north-easterly wind did make things challenging. The neap tides allowed anglers to have some amazing shots at the 'Big Five'. The fishing was boundless for anglers willing to put in the effort and make shots at fish.
The anglers did extremely well targeting bonefish, over 529 bonefish were landed over the week with some extremely big fish coming out. The largest fish was guided by the legendary Wayne Haselau who has joined the Alphonse Guide Team for his 20th season. Wayne acts as a mentor to the guides. Wayne guided Wendel Nicolaus into a fantastic 63 cm bonefish which weighed around 6.5 pounds.
Day three was a brilliant day for Chris Lohner, Chris landed an impressive 85 cm GT as well as a 65 cm bluefin trevally. Chris went on to land a 71 cm GT and an 83 cm GT. Jefferson Castle was lucky enough to land his first GT, which was a 66 cm GT. Cecily Mase also landed her first GT measuring 78 cm which is impressive for a first timer.
Another fantastic week was spent at Alphonse Island fishing St. François Atoll. Memories were made and bonds were formed that will last a lifetime. Stay tuned for next week's report as we are sure you won't want to miss it.
Tight Lines,
The Alphonse Fishing  Co. Team on Alphonse Island
TOTAL CATCH STATS FROM 10 ANGLERS THIS WEEK:
Bonefish: 529
Giant trevally: 5
Bluefin trevally: 9
Triggerfish: 3