Introducing Farquhar Atoll!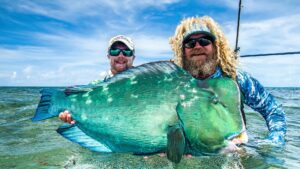 Alphonse Fishing Company is extremely excited to offer trips to Farquhar Atoll,  the most Southerly atoll in the Seychelles chain of islands lying just over 700 km to the Southwest of the main island Mahe. Here guests can immerse themselves in fishing and exploring the islands, flats, channels and blue waters of the atoll.
The large ear-shaped lagoon provides easy access to the countless flats, channels and surf zones which all contribute to making Farquhar such a diverse fishery.

Farquhar Atoll is one of the few Seychelles destinations where you will have the chance to target bumphead parrot fish on the flats.
They are most certainly one of the most powerful tailing fish you are lightly to encounter. They shoal in numbers between 5 and 30 fish and can be seen from a mile away when waiving their big blue tails in the air.
Farquhar is certainly best known for the sheer diversity of species it offers anglers, so if stalking bonefish in skinny water, throwing crab flies at the colourful and charismatic tailing triggerfish or holding your nerve as a large GT charge in at your fly interests you…well, then Farquhar is certainly the fly fishing destination for you.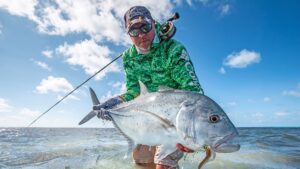 Our core flats species include:
Bonefish

Triggerfish

Giant trevally

Bluefin trevally

Indo-pacific permit

Bumphead parrotfish
As an added bonus, we also provide some truly exceptional offshore fly-fishing. Milkfish, sailfish, barracuda, wahoo, yellowfin tuna, dogtooth tuna and a host of others roam the bluewater just off the flats.
The Farquhar fly fishing season will run from September until early May.  We cater for 10 anglers per week.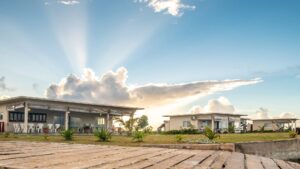 Guests are accommodated in twin en-suite chalets facing the magnificent Farquhar lagoon. A central dining and bar area lets you socialise alongside the shoreline, with cuisine offering the very best of traditional Creole creations.
We are extremely excited about this new addition and even more excited for our guest to experience this fly fishing paradise and all that it offers!
So, whether you're looking to cast your fly at an enticing Bumpy or that trophy Giant Trevally that you've been dreaming of, or instead looking forward to have a complete saltwater experience – Farquhar Atoll is the perfect choice!
.