For most fly fishermen there is a special place reserved on their fishing bucket list for a certain golden specimen. Characterized by their golden-yellow fins and big black eyes, the Indo-Pacific Permit is the golden trophy we all strive for.
They are well camouflaged with their silver, almost mirror-like colour that reflects their habitat, whether it be white sand, turtle grass or coral flats, making them nearly invisible to the untrained eye. This species is also extremely sensitive to their surroundings and spook more easily than any other fish. To land one of these beauties, everything has to be perfect!
And to top it all off, all Permit react differently to flies, mostly depending on their mood. Some need to be coaxed into eating the fly by specific stripping techniques, while others need a few casts or, if possible, a fly change or two. Other specimens need no enticing at all as they will very aggressively inhale the fly the moment they see it. Once hooked, they fight to the bitter end and often struggle to get into the net, thus patience all the way through is vital!
 "The angler doesn't catch the Permit; rather, it allows itself to be caught."
This being said, there are a few things we can suggest for helping in landing an Indo-Pacific Permit. One of these things and quite an important factor at that, is the type of fly we would recommend. The following 3 flies have helped us land our golden trophies: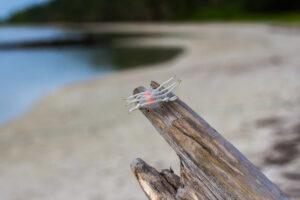 .
1. The Alphlexo Crab
This fly has been a revolutionary in terms of landing Permit. It is extremely realistic in size, colour and even texture – good enough to fool any Permit. This fly is an absolute must-have when targeting the silvery species.
.
.
.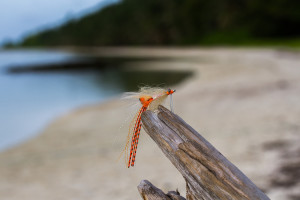 .
2. The Avalon Shrimp
This is a legendary fly that has been around for years for a very obvious reason – it works! It has an incredible action in the water as it gets stripped along. The fly can be tied in various colours and sizes which makes it a diverse fly that can be used in different water environments.
.
.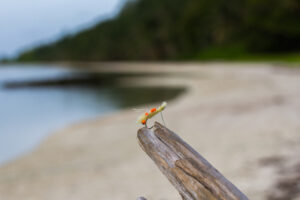 .
3. The James Sand Prawn
This is a nice bright fly that draws the attention of a Permit from some distance. It can be used by either retrieving it along the bottom of mid-water column. The big eyes are a dominant feature which acts as a great trigger to attract and entice the target to eat it. It is a must-have in any Permit enthusiast's box.
.
.
All of these flies along with any additional gear you might need is available on the islands. Alternatively, our guides are fully kitted to tie any flies that are perhaps not available.
There you have it – the best flies and technique to target (Indo-Pacific) Permit. For more tips and details on the species, you can also have a look at Fly Fishing for Permit.