Cosmoledo Atoll Fishing News | 30 Jan – 06 Feb 2020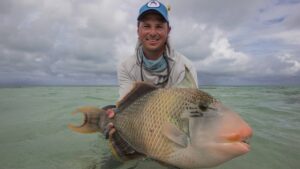 The much anticipated Alphonse Island Invitational was held on Cosmoledo this week which saw the return of regular faces Ray Cadiz, Matt Ferry, Chris Westerhof, Mike Soloman and Justin Kemp and newcomers, Bruce Stewart, Graham McCollum, Peter Stewart, Dave Curtis, David Owen-Jones, Richard Came and Patrick Quarmby.
The first day was insane with 44 GT's landed with Justin managing a magnificent 114 cm GT on the vast white sand flats. That fish ended up being the biggest of the week, sadly not the biggest hooked as both Matt and Peter had beasts eat their flies but that ended in heartbreak.
Chris Westy had a stellar week landing several GT's as well as two massive yellowmargin triggerfish – 54 cm and 55 cm. He also managed to get the first slam of the week, a bonefish, triggerfish and a giant trevally in one day.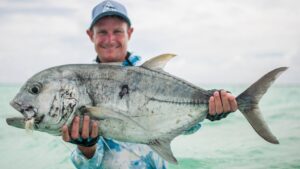 Dave managed to get himself a flats slam as well with a bonefish, giant trevally and his first moustache triggerfish. He also managed 10+ bones in a day, and in addition to that, he landed the biggest bonefish of the week, measuring 70 cm.
Ray Cadiz had a great week as he landed multiple GT's throughout the week, as well as his yellowmargin triggerfish, which measured 51 cm, this was arguably his best fish of the week.
Richard Came landed a whopper GT on a small 4/0 brushfly, luckily the hook found purchase and he made quick work of bringing the 110 cm GT to hand, he also managed an impressive 98 cm GT on the final day.
David left it to the last minute of the trip, literally to the final cast of the day on the final day to land his fish of a lifetime, a mammoth 111 cm GT.
In the end, it was a great week with many laughs and cold beers to match. We can't wait to welcome you all back next year!
Tight Lines,
The Alphonse Fishing Co. Team on Cosmoledo Atoll
TOTAL CATCH STATS FROM 12 ANGLERS THIS WEEK:
Giant trevally: 147
Triggerfish: 4
Bonefish: 18