Astove Atoll Fishing News | 07 – 14 November 2019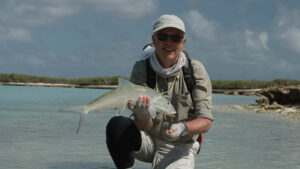 Astove Island opened the 2019 season with the whole team well rested and ready to receive their first guests. The first week was fished with only two rods on the flats under very trying, tough conditions where strong winds and extremely rough seas made it hard work for the guides and the guests.
Ray Palmer and Jim Bankston fought through the weather and even though they were smaller species had three GT's, two permit, multiple bonefish and a giant 70 cm bluefin by day three.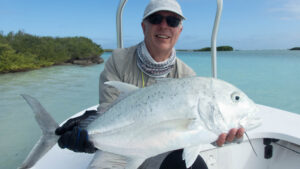 Ray had abit of hard luck with three to four bigger fish in the beginning of the week refusing his fly, slowly he progressed and managed to add two lovely giant triggerfish and two spectacular 70 cm and 71 cm GT to his tally.
Jim had angered the fish gods and was having the harshest luck pulling the hook on a permit after five minutes of fighting and losing a 90+ cm GT at the leader. He pushed on and capitalised on the last day landing three GT's ranging from 65-75 cm.
The angler of the week had to go to Ray who just ticked off the species list day by day catching whatever showed up in front of him. Ray's total tally was two triggerfish, two permit , two GT's and multiple bonefish.
Tight Lines,
The Alphonse Fishing Co. Team on Astove Atoll
TOTAL CATCH STATS FROM 2 ANGLERS THIS WEEK:
Giant Trevally: 8
Bonefish: 30
Triggerfish: 2
Permit: 2