Alphonse Island Fishing News | 19th – 26th October 2019
It has been a busy week on St. François Atoll. The strong south easterly wind brought both good and bad weather which made for tough but very productive fishing conditions. This week the 12 anglers fished a neap tide allowing them shots at permit, GT, bonefish and triggerfish. An assortment of reef fish caught on fly added to what was an already magical week. The renowned duo, Christiaan and Lindi Pretorius, joined us for the week. Christiaan is a professional fishing guide, photographer and fly fishing junkie. Christiaan proved his legendary reputation over the week by landing three permit ranging from 40 – 65 cm, two GT of 60 cm and 72 cm and numerous bonefish.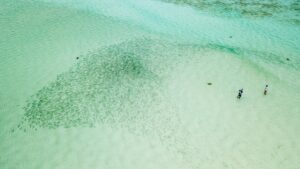 This week's anglers were fortunate to experience some of the best bonefishing planet earth has to offer. Schools of bonefish in their thousands were seen, giving anglers a vital opportunity to land their bonefish of a lifetime. We managed to land a total of 379 bonefish over the week. The biggest fish was landed by Turner Wingo measuring 60 cm. Leo Tallis was fortunate enough to land 61 bonefish in one day. The first day spent on the St. François flats was fantastic. Mark Ozog landed three permit in one session ranging from 30 – 69 cm as well as one small GT. Day 6 was a whimsical day for Rob Gilbert who landed the second and also the biggest yellowmargin triggerfish of the season thus far. Stephan Gadient landed his first moustache triggerfish measuring 20 cm caught on a coral finger on a low neap tide.
Another fantastic week was spent at Alphonse Island fishing St. François Atoll. Memories were made and bonds were formed that will last a lifetime.
Tight Lines,
The Alphonse Fishing Co. Team on Alphonse Island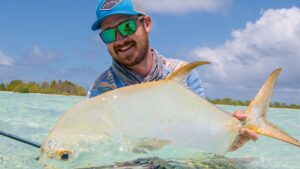 TOTAL CATCH STATS FROM 12 ANGLERS THIS WEEK:
Bonefish: 379
Triggerfish: 2
Giant Trevally: 8
Permit: 7