Alphonse Island Fishing News | 05 – 12 October 2019
Week three of the season started with variable weather conditions and calm flat seas. Neap tides gave the anglers the opportunity to fish mainly on the white sand flats looking for rays, sharks and the treasures that followed. The end of the week saw the tides transition to springs which gave good opportunity to look for triggers and giant trevally (GT) in the surf.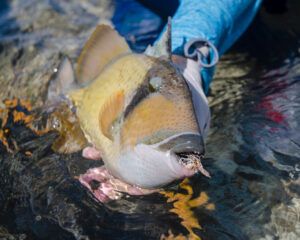 The low number of rods meant there was very little disturbance around the atoll, this benefitted the guests as they could see a much larger portion of the atoll. Anglers specifically looking for permit benefited from this and one guest in particular, Chris Walsh, caught a magnificent specimen of 60 cm. Bonefish where found across the atoll, showing up in large schools on the high spots and both east knoll and delta where favoured by the guides.
Guests who pursued GT found fish along the finger flats as well as on the white sand, many reporting to have seen rat packs during the day. Many fish were also seen following rays in the mullet bay area. Father and son, Shaun and Collin Chapman, had an awesome day with Trevor Sithole who guided Shaun onto a grand slam consisting of a permit, GT, bonefish and large triggerfish. Shaun also caught three triggerfish on Friday during the spring tide. One milkfish was hooked by Chris in the last hour on Friday but unfortunately the fish pulled the hook! It was the only one of the big five fish species for him left to catch on Alphonse.
Ron and Julie were the only guests to venture into the bluewater this week and where rewarded with sailfish, wahoo and tuna all caught on conventional tackle.
Tight lines,
Alphonse Fishing Co. Guides on Alphonse Island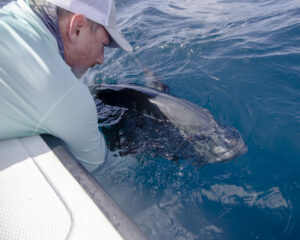 TOTAL CATCH STATS FROM 5 ANGLERS THIS WEEK:
Giant Trevally: 10
Bonefish: 286
Triggerfish: 9
Permit:3