By head guide – Cameron Musgrave
Guests often ask me which island is my favourite island to guide on. It's always a hard answer as I've fished on Farquhar, Desroches, St Josephs, Poivre, Alphonse, Astove and even Assumption. All of those islands and atolls each have their unique character, but if push comes to shove, Cosmoledo will win. Not only is it jam-packed with fish that love to smash flies, its natural makeup is beyond beautiful. From jagged, sharp rocks to miles of untouched white beaches. If you are like myself, who enjoy photography and wildlife, then every day will be filled with incredible sightings. I've said it countless times:
"Guiding on Cosmo is like being in your own David Attenborough documentary"
With the 2017 – 2018 Cosmoledo season all done and dusted, it's time to reflect on what was possibly one of the most memorable seasons to date. Memorable for epic as well as difficult situations; however, guiding on one of the most prestigious and remote islands in the world, the epic situations definitely outweigh the bad ones.
Brian's first GT & Permit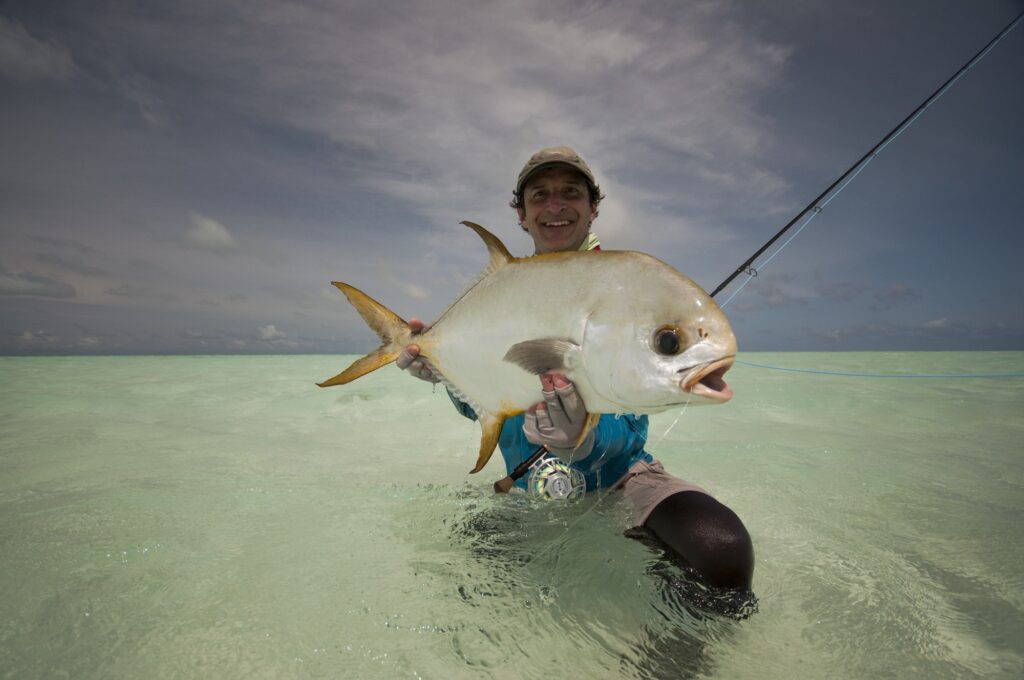 I remember guiding Brian Sippy on the first day of his trip. He, like a lot of guests that come to Cosmo, have never hooked into a GT. But Brian did things a little differently. It was a pretty windy morning and the shots at the GTs that we had were challenging. I decided to drop the anchor and wait it out as we were in a "GT hot spot" Once the anchor was set I looked around and saw this Permit way above us in very shallow water. I quickly got his 10wt rod out the holders of the skiff and proceeded to change his fly. This Permit turned and started to swim nonchalantly towards us, turning a calm situation into a race against time. Whilst tying the fly on, I ushered Brian to get into position to make the cast immediately. With me throwing the rod at him with an inch long tag end of the knot still attached, he made the best roll cast he could as the fish was now 15 feet from us. As soon as the fly hit the water, the fish got spooked and in doing so, it came even closer.
My thoughts were that we have blown it for sure, however, Brian made the most glorious desperate cast at the fish now going away from us. What happened next was very surprising. As the fish turned, I thought "Never in a million years!", but Brian's fly line jumped, and I shouted SET! Brian landed a Permit (his first) on Cosmo before he had landed a GT! It's these little stories and the way it all went down that makes me love what I do. The most reliable information about Permit that I've learnt, is that they are always predictably unpredictable. Later that same day his boat partner Mike had a perfect shot at a very happy, feeding Permit with the same fly as Brian's, and it showed little to no interest.
The Queen of Cosmo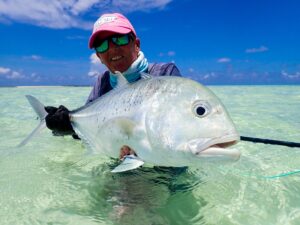 Chantal Chone, (aka The Queen of Cosmo), is no stranger to the Alphonse Fishing Co, and she has been on countless trips with us. Over the years, I have developed a great friendship with her.
It was an absolute privilege to spend the day with her on her birthday! I won't give away her age, but let's just say that she isn't in her sixties anymore.  Not wanting to wade too much that day, I again set us up in what is now known as "GT Fiesta" – a name that she gave the spot. Within an hour, she had landed 14 GT's! Having this great relationship with her and then guiding her to such an amazing feat on her birthday made it, for me, a very memorable day. The Champagne and Whiskey that evening went down a treat!
When the clouds roll in
It isn't always sunshine and blues skies and happiness. Sometimes you question yourself: "What the heck am I doing out here?"
Let me enlighten you. Fuel. Around 1,200 litres per week of it needs to get loaded from Astove to Cosmo, and once on Cosmo it then needs to get offloaded and stored. This is all done by hand, with the fuel stored in jerry cans. Then we need to load all the cases of soft drinks and beers. Racks of frozen ribs and fillet steaks – the list goes on. It's all part of the territory and we all accept it, but it doesn't have to mean that we like it. It gets pretty old after doing it week-after-week.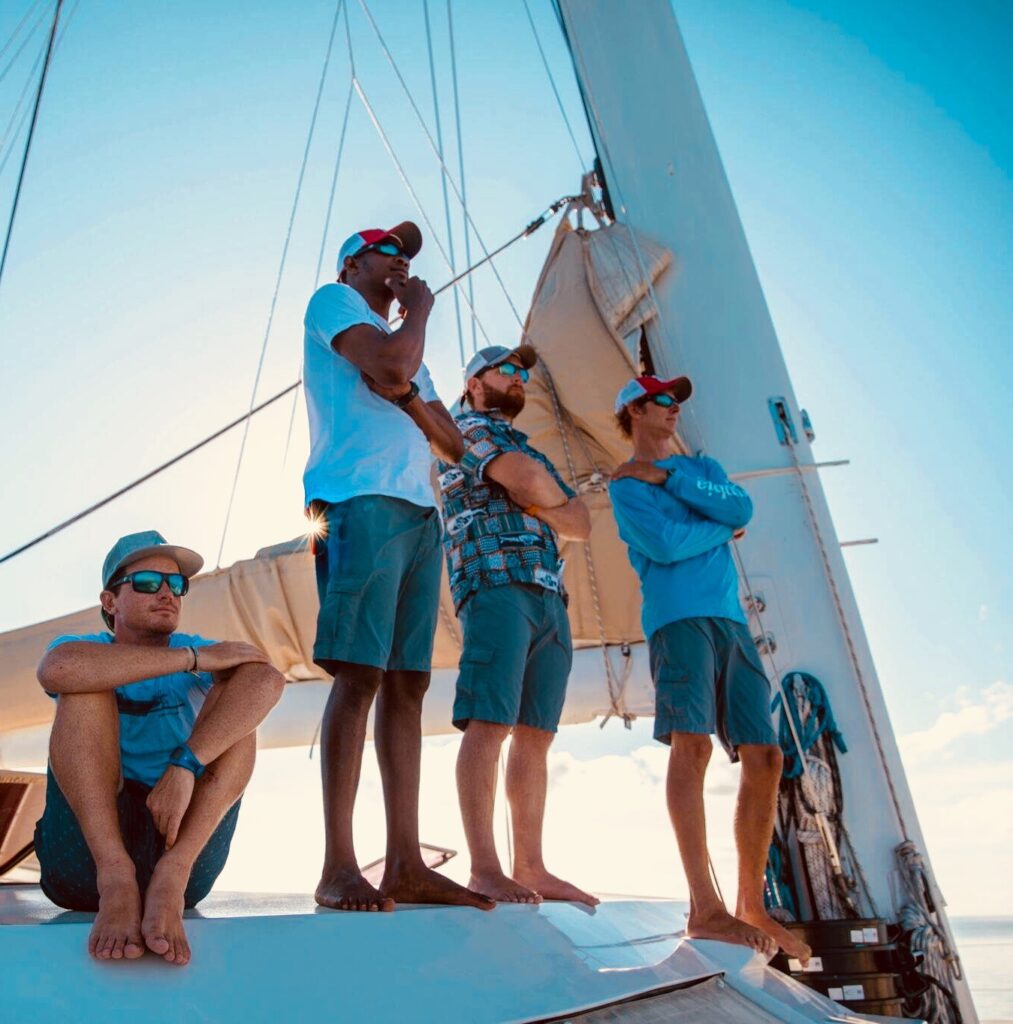 Being in the tropics the weather can go from sunny to torrential rain and back to sunny in one day. However, when we woke up on the morning of the 4th March, it was pretty evident that it wasn't really going to clear up any time soon. By 9:30 am we had wind speeds that reached 52 knots. By 11.30 it had dropped all the way down to 12 knots. As you can imagine, there were a few itchy palms wanting to get out on the flats! I made the call that we could go out, but on the condition that we all stay relatively close to the mother ship. By noon, all four guides and all anglers bar one were on the water.  At 3:30 pm I received a rather urgent radio call from the captain of the Lonestar (mothership), stating that it would be best if he can pick us up as the horizon was getting ominously darker. Unfortunately, the weather beat us to it, and the pick-up was called off. The wind was now gusting at 54 knots or 105 KPH, with sand and horizontal rain blasting our faces and birds even being blown off their nests, unable to fly. We had to bunker down in an old turtle nest until it subsided a little and we were able to get a picked up safely. I eventually got back to Lonestar at 7:15 pm.
Heading back home from Cosmoledo
Most of my friends say that I have the best job in the world, and they're probably not wrong. But their perception is that we as guides just get to fish all day and generally take it easy. That is where they are wrong. Guiding is tough! We work super long hours, and the job is extremely physical and relentless. And let's face it, in life there are always different and difficult people to deal with, and in this line of work, that can be the most draining aspect of them all.
Every year it's the same: as soon as you can almost see the finish line, there is only one thing on my mind – home and family. Being away for 8-9 months starts to take its toll. The closer you get to going home, the stronger the pull and urgency gets. Spending time with my two brothers is always a highlight as there are always several humorous stories to catch up on.  My girlfriend is still around after a few years and has stuck with me throughout my long stints of being absent, for reasons I'm still trying to figure out.
Being home is great, but slowly and surely as time goes on, the longing for the island returns. It's not just about rushing back to the fishing; it's more about getting back to my second family and the camaraderie between the guides that has developed over the years.
Follow Cameron Musgrave on Instagram: @cameron_musgrave
The 2018-2019 season at Cosmoledo
Join Cameron and the expert team on Cosmoledo for the next exciting season, October 2018 – April 2019.  We have 5 rods remaining for the week of 11 to 18 April at Cosmoledo. The rest have unfortunately already been sold out.
Alternatively, contact reservations2@afct.droiddev.co.za to inquire about last minute cancellations, being added to the waiting list or to check on availability for the 2019 / 2020 season.